The When and How to Buy Stock Photography: learn when to pay for images and graphics for a blog and when free images will work!
When to Buy Stock Photography
I'm a big fan of correctly using the millions of stock images out there however, there are a lot of business owners who use them incorrectly.
When in doubt, paying for stock photos is the way to go if:
You are using it for branding (business cards, websites, etc.).
You are using it for products you are going to SELL (eBooks, courses, templates, etc.).
You are using it in advertising (Facebook or other social advertising, brochures, etc.).
Do you really know when to use free and paid stock photography?
I buy stock photography all the time and use Deposit Photos for most articles on my own sites and those for which I write. Getting tagged for an image violation on a guest post or ghost-written piece is my idea of a professional hell!
Not Ready to Buy Stock Photography?
If you're not ready to buy stock photography, check out these articles to help point you to some great places to get free stock images for blogs.
There are affiliate links in this article, which could mean I may receive a commission if you purchase something. To read more about my affiliate partners, see my full disclosure here.
Where to Buy Stock Photography
There are so many sites who boast amazing pictures, but there are nuances about each. I've been at this game a while and wanted to share some of my favorites.
This is the one I use the most when I buy stock photography, hands down. The selection is varied, there are new updates frequently, and the search function is amazing. The license is worth a read, but generally, you should have no problems.
P.S. You can find a great deal from AppSumo for $39 for 100 images. BUY IT. BUY TWO. Or three.
This definitely ranks as one of the best places to buy stock photography. I have a school-girl-like crush on Creative Market. Okay, maybe it's more of a love affair because I always look here first when I have a specific image in mind.
The standard license allows for use in free and a single commercial product. It also allows for a single project use for up to 500 sales.
Why is this popular source such a great choice for stock photography?
Another one I love is Envato Market's Photodune (they start at $1, y'all). ONE. DOLLAR. Note that they shouldn't be used in commercial products (anything that is sold) unless the extended license is purchased.
P.S. Check out the "Unstock Photography" section. And don't forget – if you're a "flat design" lover, they've got oodles here.
This source is a hidden gem for stock photography. Tell everyone!
I big, squishy heart LOVE this site. I've purchased (from $15) images as narrowly-defined as "dragonfruit with flower." I actually used that in an article.
This site also has a generous standard license agreement and is open to discussing usage beyond what it identifies.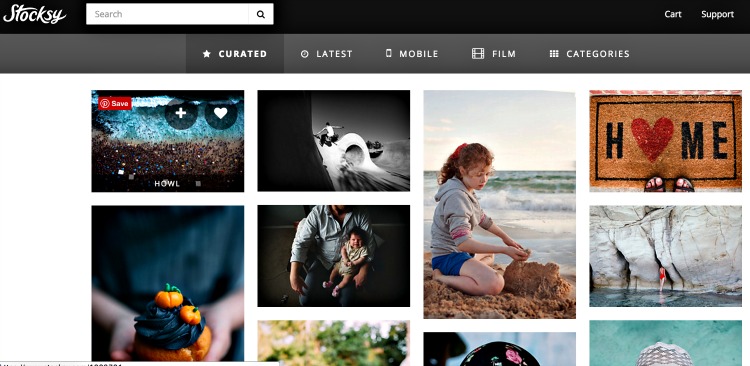 I have a true love / hate with this one, but one thing I cannot deny: amazing photos. You can buy a single image starting at $9.99, but there are subscription plans available. If you're a subscriber to Creative Cloud, you get a discount on the monthly subscription, but it's still pricey.
These royalty-free images start at $1 but really, you're looking at $4-6 for a quality image to be used on the web. CreStock has a varied range of photos: super cheesy stock to modern chic.
There is such a huge swing in the types of photos, but there are some definite gems in there for a great price.
Honorable Mentions
The below are the honorable mentions and most popular places to purchase stock photography. I use them sparingly. Why? Everyone uses them.
I use major stock photo sites sparingly. Why? Because EVERYONE uses them.
Dreamstime, iStock (by Getty), and Shutterstock – These players are the trifecta of stock photography. They've dominated and still remain viable options. Licensing is varied.
Alamy –  I've used them and recommend them, but would like to note: pay very close attention to the usage and licensing.
Purestock purestock.com and Superstock – Although they are pricey, they do have some creative photography to choose from.
Summary
Knowing when to use and how to buy stock photography will save you time, money, and potential legal battles. Use these tips and sources to visually engage readers and increase traffic and shares.